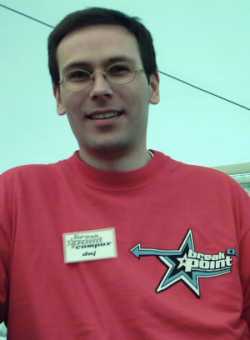 Dirk Jagdmann
Coder
I'm a software developer currently working in Silicon Valley on network optimization software. I have a strong background on Unix/Linux/BSD programming which I'm doing since 1995. But apart from 32/64bit C++ code I have also done lots of 8bit assembly coding on microcontrollers and the Commodore 64 (that was in the late 1980's). And since 1997 I maintain various Internet servers/websites and have built and maintained a lot of typical web applications, mostly done with PostgreSQL and Embperl.
I live in Santa Clara, California and can be contacted by email to dirk@jagdmann.de or by phone 415-830-6442. Most of my (free) Unix software is available on my website llg.cubic.org, while my private website http://cubic.org/~doj contains lots of (unsorted) stuff.
My Resume
A shorter printable version of my resume is found in the English PDF.
Feb 2010 -- present

Oct 2007 -- Jan 2010

Sep 2005 -- Jul 2007

Jul 2003 -- Aug 2005

Jul 1998 -- Jul 2001
Skills
From my current and past projects I have gathered expertise in the following areas:
C/C++ development
perl development
PostgreSQL and PL/pgSQL, SQLite, and also the ubiquitous MySQL
network (protocol) Development: TCP/IP, HTTP, UDP (broad-/multicast)
OpenGL and general Audio/Graphics development
Linux/FreeBSD software development, administration and operating system customization
Website/Webservice development
Hardware drivers, Linux kernel and similar tasks
One more comment on programming languages: All imperative and object oriented programming languages are more or less the same. If you know how to use one, you can easily adapt to others of the same kind. So although I have listed C/C++ and perl in the above list, I can do development in similar languages as well which would include: Java, Python, Ruby, PHP, sh, pascal and whatever will come in the future. Due to my background in hardware and microcontroller development (and my history on the C64) I know assembler for a number of processors as well.
Contributions to Free Software Projects
---
$Date: 2015-09-24 12:47:15 +0200 (Thu, 24 Sep 2015) $ © by Dirk Jagdmann,